How much fish do we eat? The data looks at the impact of China's seafood consumption
2018-05-28 02:01
By 2018, China remained the world's largest seafood producer, producing 64.58 million tonnes. This production is almost the same as the 64.45 million tonnes in 2017.
In 2017-2018, China's seafood growth rate reached its lowest level in nearly a decade. In view of the limited land resources of aquaculture, the introduction of national environmental protection policies for aquaculture and the decline in wild catches, it is expected that China's seafood production will remain flat or decline slightly this year.

Since 2016, the expansion of aquaculture area has virtually stopped. Aquaculture production has increased from the expansion of the cultivated area to the scientific unit, resulting in an overall moderate increase in 2019.

In recent years, China's seafood imports have been at a historical high, in 2018 with the increase in value-added seafood export demand, processing and re-export raw material demand greatly promoted China's seafood import volume, according to customs statistics, in 2018 China's aquatic products import and export total 9.5442 million tons, a total of 37.188 billion US dollars, an increase of 3.33% and 14.44% year-on-year, the total import and export volume and total are a record high. The annual trade surplus was US$7.465 billion, narrowing by US$2.339 billion year-on-year. However, export production of value-added seafood is expected to be constrained by international trade, labour constraints and rising input costs.
In addition, domestic consumer demand for seafood remains strong, and growing awareness of seafood has made China's middle class prefer wild-caught products. China's reduction of import tariffs on some seafood products will also encourage more domestic import consumption. The best prospective imports include salmon, cod, longevity, halibut, flounder, shrimp and prawns, as well as higher-priced live imported seafood such as lobster, king crab and treasure crab.

Seafood production growth flattened

China's seafood production is estimated at 64.58 million tonnes in 2018, essentially unchanged from 64.45 million tonnes in 2017, with wild seafood production falling by 500,000 tonnes, farmed seafood increasing by 600,000 tonnes, and wild fishing accounting for about a quarter of total production.

In 2019, wild-caught seafood production is expected to remain stagnant, and growth in farmed seafood will be concerned by limited water resources and environmental challenges. According to the Third China Agricultural Census, the National Bureau of Statistics adjusted seafood production data for previous years.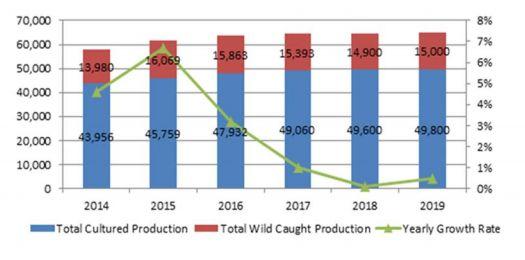 Source: National Institute of Statistics

Due to limited catches in China and other countries, the production of wild seafood is increasingly challenged. In the first 11 months of 2018, total production fell by 5.6 percent, and under the Marine Fisheries Development Plan (2016-2020), China will reduce distant-water fishing vessels and impose "zero growth."

In recent years, China has tightened its oversight of the fishing industry, with more than 4,000 fishing vessels suspended and more than 30,000 illegal fishing vessels destroyed. In 2018, the summer fishing moratorium in domestic waters was extended from two to three months (depending on the region) to three to four months (from May 1 to mid-August or early September, depending on the region). At the same time, fishing in rivers and lakes is prohibited, such as the four-month spring fishing moratorium in the Yangtze and Pearl Rivers, which promotes the restoration of the ecology of domestic rivers and lakes.
China is the world's largest aquaculture country, accounting for two-thirds of the world's farmed seafood production in 2017. In 2017, China's aquaculture output reached 49.06 million tons, and by 2018, the total output of aquaculture products is estimated to be 49.9106 million tons, accounting for 77.29% of China's seafood production.

The decline in the growth rate of farmed seafood reflects the lack of expansion of water resources for aquaculture as a result of increased enforcement of environmental regulations by the Government. With expected domestic demand for seafood and an expected decline in catches, China's seafood farming is expected to grow modestly beyond 2018, most likely through technological innovation rather than expanded water use.

Source: China Fishery Statistics Yearbook

Seafood imports are growing rapidly
Experts believe that most of the new imports are for domestic consumption, not for processing and re-exporting. Since 2017, China has implemented MFN tariff relief on some seafood products to encourage imports of these species for domestic consumption. P. vannamei and Argentine red shrimp are popular in the Chinese market. In 2018, fillet imports increased by 76% year-on-year to 141,000 tonnes. 75% of the frozen fish fillets come from Vietnam, the vast majority of which are pangasi.
Imported seafood is becoming more and more affordable, and seafood consumption prospects are great

China's seafood consumption continued to grow in 2018. The impact of swine fever on key supplies in 2019 will boost further growth in seafood consumption.

According to statistics, China's coastal areas have the highest per capita consumption of seafood, which has always been a traditional source of protein, and also in regions with relatively high disposable income.
Traditionally, Chinese consumers have preferred live seafood over processed foods, and domestic consumption of processed seafood is small compared to overall seafood consumption. However, the consumption of processed seafood is expected to rise steadily due to improvements in processing, distribution, and cold chain systems in China, as well as consumer interest in more diverse and nutritious diets featuring seafood.

China's economy is undergoing a process of change that seeks development by quality, development by speed, and development by openness, and more and more countries of origin of high-quality seafood have entered this expanding consumer market. China will transform itself from the world's factory into a major consumer of goods and services, providing more benefits and opportunities for a world with sluggish growth.